Federal Corporation in Canada refers to a type of Business entity that is incorporated under the federal laws of Canada, specifically the Canada Business Corporations Act (CBCA). It is a legal structure that allows businesses to operate and conduct business activities across multiple provinces and territories in Canada.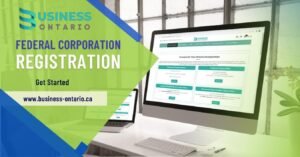 Here are key features and characteristics of a Federal corporation in Canada:
Federal Jurisdiction: Unlike provincial corporations, which are incorporated under specific provincial laws, federal corporations are incorporated under the CBCA, which falls under the jurisdiction of the Government of Canada.
Cross-Provincial Operations: A federal corporation can conduct business activities and operating across Canada. It is not restricted to operating within a single province or territory.
Name and Registration: Similar to provincial corporations, federal corporations must have a unique name that complies with the regulations set by the Corporations Canada.
Legal Obligations: Federal corporations are subject to various legal and regulatory obligations outlined in the CBCA. This includes filing annual returns, maintaining proper corporate records, holding annual general meetings, and complying with federal tax laws and regulations.
Credibility and Recognition: Federal corporations often carry a certain level of credibility and recognition due to their federal status. This can be advantageous when dealing with customers, suppliers, financial institutions, and government entities.
Extra Provincial: When a federal corporation wants to operate in a specific province or territory, it must comply with the laws and regulations of that jurisdiction by registering as an extra-provincial corporation. This registration allows the corporation to establish a legal presence and conduct business activities in the additional province or territory.