Register Your Trade Name/DBA/Operating Name
Thank you, we will contact you soon !
Summary
Summary
| Discount : | |
| --- | --- |
| Total : | |
You need to select an item to continue
Trade Name/Operating Name/DBA.
1 Hour Superfast Service Available
Our website form guides you a simple step by step process to complete your order placement. If need any assistant to fill up your form just take help from our live chat, email or call. Before we processed to register your Business our Specialist team will review properly your order. You will receive you Registration documents in Email.
A company key is a sequence of numbers and letters that works like a banking PIN. It is Mandatory to register Trade name

You need to select an item to continue
Registration Type & Name Details
If you can't upload now, you may proceed with the order and send later via email.
You need to select an item to continue
Governmental Other Registrations
If you are planning to export or import in/from Canada, you Must need to register export or import Account. Canada Border Services Agency (CBSA) needs this account to identify and to process Customs documentation.
If your business have employees (including family members) you must register with WSIB. We register WSIB account for you and connect you with WSIB.
You need to select an item to continue
Give Your Billing Information
The final estimated price is :
Summary
| Discount : | |
| --- | --- |
| Total : | |
Trade Name refers to a name under which a business operates that is different from the legal name of the individual or entity owning the business. Also known as a "doing business as" (DBA) name or an assumed name, a trade name allows businesses to conduct their operations and market their products or services using a name that is distinct from their legal entity name. Here's some information about trade names in Ontario:
Benefits of Trade Name:
1. Branding and Marketing: A trade name provides businesses with an opportunity to establish a unique brand identity and differentiate themselves in the market. It allows businesses to create a memorable and recognizable name that resonates with their target audience.
2. Flexibility and Adaptability: Trade names offer flexibility by allowing businesses to change their brand or operating name without having to change the legal structure of the business. This enables businesses to respond to market trends, reposition their brand, or expand into new markets more easily.
3. Multiple Business Ventures: With a trade name, individuals or entities can operate multiple businesses under different names without the need for separate legal entities. This can be beneficial for entrepreneurs or businesses with diverse ventures or multiple product lines.
Usage of Trade Name:
1. Marketing and Advertising: Trade names are commonly used in marketing materials, advertisements, and promotional campaigns to create brand recognition and attract customers. They allow businesses to establish a strong presence and build brand equity.
2. Contracts and Agreements: Trade names can be used in contracts and agreements when conducting business transactions with customers, suppliers, or partners. They help identify the business entity operating under the trade name and define the rights and obligations of the parties involved.
3. Bank Accounts and Financial Transactions: Trade names can be used when opening a business bank account to receive payments, issue invoices, and conduct financial transactions on behalf of the business. They provide a recognizable name for customers and streamline financial operations.
4. Business Registration: When registering a business in Ontario, individuals or entities may choose to operate under a trade name instead of their legal entity name. This requires registering the trade name with the appropriate authorities and complying with the registration requirements.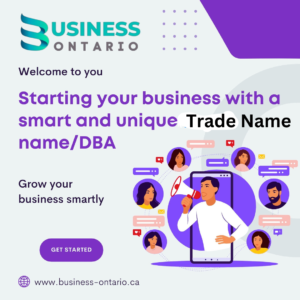 We offer comprehensive assistance to customers looking to register a trade name for their business. Our services include:
1. Name Availability Search: We conduct a thorough search to ensure the desired trade name is available and not already in use by another business in the same jurisdiction. This step helps avoid potential conflicts and ensures the uniqueness of the trade name.
2. Trade Name Registration: We guide customers through the process of registering the trade name with the appropriate government agency in Ontario. This typically involves completing the necessary application forms and providing the required documentation.
3. Documentation Preparation: Our team assists in preparing the required documents for trade name registration, ensuring accuracy and compliance with the registration requirements. We provide guidance on the information and supporting documents needed to complete the registration process.
4. Application Submission: We handle the submission of the trade name registration application on behalf of the customer. This includes ensuring all forms are properly completed, attaching the necessary supporting documents, and submitting them to the relevant government agency within the specified timelines.
5. Follow-up and Communication: We maintain regular communication with the government agency to track the progress of the trade name registration. If any additional information or clarifications are required, we liaise with the agency on behalf of the customer to ensure a smooth and efficient process.
6. Compliance and Renewal: Once the trade name is registered, we provide guidance on maintaining compliance with ongoing obligations, such as renewing the registration within the required timeframes. We assist customers in understanding the renewal process and ensure they remain compliant with all regulatory requirements.
Our aim is to simplify the trade name registration process for our customers and provide them with peace of mind knowing that their trade name is registered correctly and legally. By entrusting us with their trade name registration, customers can focus on building their brand and conducting business operations with confidence.