Federal Non-profit Corporation refers to a type of organization that is incorporated under the federal laws of Canada, specifically the Canada Not-for-profit Corporations Act (CNCA). It is a legal structure that allows non-profit organizations to operate and carry out their activities at a national level across various provinces and territories in Canada.
Here are some key points regarding a federal non-profit corporation and its required information:
1. Purpose: The primary purpose of a federal non-profit corporation is to engage in activities that are beneficial to the public or a specific segment of society. Non-profit organizations typically pursue charitable, educational, religious, social, or environmental objectives.
2. Incorporation Process: To become a federal non-profit corporation, the organization must follow the incorporation process outlined in the Canada Not-for-profit Corporations Act (CNCA). This process involves submitting specific information and documents to Corporations Canada, the federal agency responsible for overseeing federal non-profit corporations.
3. Required Information: When incorporating as a federal non-profit corporation, certain information is typically required, including:
– Name of the corporation: The organization must choose a unique and suitable name that complies with the naming regulations outlined in the CNCA.
– Purpose and activities: A clear statement of the organization's purpose and the activities it intends to undertake.
– Registered office address: The physical address where the corporation's records and official communications will be maintained.
– Governing structure: Details about the board of directors or trustees responsible for managing the corporation, including their names, addresses, and positions.
– By-laws: The by-laws are the internal rules and regulations that govern the corporation's operations, decision-making processes, and other organizational matters.
– Membership information: If the corporation has members, details about the membership structure and rights.
4. Legal Obligations: Once incorporated, federal non-profit corporations have ongoing legal obligations, including maintaining proper records and filing annual reports with Corporations Canada. These reports provide updates on the corporation's activities, directors, and registered office address.
5. Tax Exemptions: Federal non-profit corporations may also be eligible for tax exemptions as per the provisions of the Income Tax Act. To benefit from tax exemptions, organizations must meet specific criteria and apply for charitable status with the Canada Revenue Agency (CRA).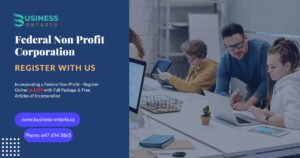 Business Ontario's Services for Incorporating Federal Non Profit Corporation:
1. Name Pre-Approval: We conduct a preliminary search to check the availability of your desired business name in the Nuans databank, ensuring it is not already in use by existing businesses.
2. Nuans Report: When incorporating, a Nuans report is required to provide the government with a comprehensive overview of any similar names to your proposed business name. This report helps in the evaluation and approval process.
3. Articles of Incorporation Preparation: Based on the instructions you provide through our user-friendly online form, we prepare the Articles of Incorporation for your review and acceptance.
4. Filing of Articles with the Federal Government: Our knowledgeable staff handles the preparation and submission of the Articles of Incorporation on your behalf. We are available to address any queries raised by the Federal examiners regarding your file.
5. Completed Articles of Incorporation: Once the Federal Examiner approves your Articles, we promptly email you the finalized documents. With these documents in hand, you can proceed to open a bank account and commence your business operations.
6. Charitable Organizations: We also offer assistance to charitable organizations by providing the necessary forms to complete the charitable tax account registration with Revenue Canada.
Please note that our services are designed to streamline the process of incorporating your business and ensuring compliance with regulatory requirements. We are committed to providing you with a seamless experience and are available to answer any questions or concerns you may have throughout the process.