Thank you, we will contact you soon !
Summary
Summary
| Discount : | |
| --- | --- |
| Total : | |
You need to select an item to continue
NUANS Report and Name Reservation Report
✔ 30 Minute Superfast Service Available for Ontario, Federal, Alberta, NB and PEI

You need to select an item to continue
Business Name
The key to naming your corporation is that the name must be distinctive. This means that the name should distinguish your corporation from any other business. Your name will not be distinctive if it only describes the activities, the goods and services or the characteristics of the goods and services of your corporation. The name "Computer Manufacturer Inc." lacks distinctiveness since it describes the activities of all computer manufacturers. Made-up words can make a name distinctive.
You need to select an item to continue
Purpose
Please provide type of business you want to register and reason for Nuans report you are looking for.
You need to select an item to continue
Review with NUANS Specialist
This label informs users that there are certain names that cannot be used, without explicitly stating what those names are.
You need to select an item to continue
Give Your Billing Information
The final estimated price is :
Summary
| Discount : | |
| --- | --- |
| Total : | |
What is NUANS Report, Pre-Search & 𝐍𝐚𝐦𝐞 𝐑𝐞𝐬𝐞𝐫𝐯𝐚𝐭𝐢𝐨𝐧 𝐑𝐞𝐩𝐨𝐫𝐭 ?
𝐍𝐮𝐚𝐧𝐬 reservation 𝐑𝐞𝐩𝐨𝐫𝐭 𝐚𝐧𝐝 𝐍𝐚𝐦𝐞 𝐑𝐞𝐬𝐞𝐫𝐯𝐚𝐭𝐢𝐨𝐧 𝐑𝐞𝐩𝐨𝐫𝐭  are specific to the Canadian provinces of Ontario, Alberta, New Brunswick, Prince Edward Island, and Federal. They are related to the process of registering an Ontario Corporation name & business name in those jurisdictions.
The Nuans Report is a document that provides a detailed analysis of existing business names and trademarks & helps to ensure that the proposed name for a new business is unique. The report includes a list of similar or identical names and provides recommendations for the availability of the proposed name.
𝐍𝐚𝐦𝐞 𝐑𝐞𝐬𝐞𝐫𝐯𝐚𝐭𝐢𝐨𝐧 𝐑𝐞𝐩𝐨𝐫𝐭 , on the other hand, confirms the availability of a specific business name for registration. 𝐍𝐮𝐚𝐧𝐬 𝐑𝐞𝐩𝐨𝐫𝐭 can be reserved for a period of 90 days. This reservation period allows the business owner to complete the necessary registration process and secure the chosen name for their business.
In other provinces, the process is referred to as "𝐍𝐚𝐦𝐞 𝐩𝐫𝐞-𝐚𝐩𝐩𝐫𝐨𝐯𝐚𝐥," and the time service queue depends on the government's queue selection.
Before Reserve NUANS report you can do 𝐍𝐚𝐦𝐞 𝐩𝐫𝐞-𝐬𝐞𝐚𝐫𝐜𝐡 typically refers to the process of conducting a preliminary search to check the availability of a business name before officially registering it.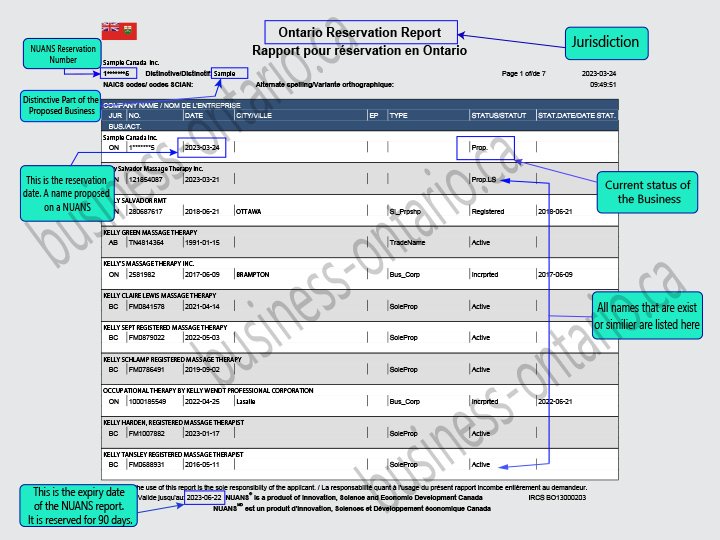 When Nuans Report required in Ontario?
A Nuans Report is in Canada when incorporating a business, changing the name of an existing business, or amalgamating or more corporations. Nuans report ontario is a search conducted by Canadian government that ensures the proposed business name is not already registered in use.
Ontario Nuans Name Search helps avoid confusion among businesses and protects the rights of existing. Nuans Name Search Ontario includes a list of existing corporations or businesses with similar or names, and variations of the proposed name. This information helps businesses develop a unique name that sets them apart from and avoids potential legal issues.
The cost of Nuans Search Report varies on service provider, We charge only Govt fee that only $13.80 and it is lowest in Ontario other than any provider.
Importance of a Nuans search Report:
A Nuans Name Reservation report is an important tool for individuals who are starting a new business or incorporating an existing one. This report is search of the federal and provincial databases and is designed to identify businesses that are operating under similar names or that may be using trademarks. The importance of a Nuans report lies in its ability to help business owners protect their brand identity and costly legal battles. By potential conflicts with existing trademarks and business names, entrepreneurs can make informed about their company's name and. The Nuans report is a crucial step in the process of incorporating a business is often required by government agencies ensure that the proposed name is not already in use.