Sole Proprietorship Registration
Thank you, we will contact you soon !
Summary
Summary
| Discount : | |
| --- | --- |
| Total : | |
You need to select an item to continue
New or Renew a Sole proprietorship.
1 hour Rush Service available
To register or renew a sole proprietorship in BC, a name pre-approval from the BC government is required. If you already have obtained it within the last 90 days, registration can be done as fast as in 2 business hours. Otherwise, we can submit name approval either in the priority queue or regular queue. These options and timeline will be shown in the next page.
You need to select an item to continue
Sole Proprietorship Name
If you have NUANS Report please send us in our email

If you can't upload now, you may proceed with the order and send later via email.
You need to select an item to continue
New or Renew a Sole proprietorship. 1 hour Rush Service available
You need to select an item to continue
Give Your Billing Information
The final estimated price is :
Summary
| Discount : | |
| --- | --- |
| Total : | |
Ontario sole proprietorship refers to a business structure where an individual operates a business as the sole owner without any legal distinction between themselves and the business. In other words, the individual and the business are considered one and the same. Here's an overview of the requirements and benefits of an Ontario sole proprietorship:
Requirements:
1. Business Name: As a sole proprietorship, you have the option to operate under your own personal name or choose a business name. If you opt for a business name, you must register it under the Business Names Act unless you operate under your legal name.
2. Permits and Licenses: Depending on the nature of your business activities, you may need to obtain permits or licenses from the relevant government authorities. This ensures compliance with specific regulations governing your industry.
3. Business Taxes: As a sole proprietor, you are personally responsible for reporting business income and expenses on your personal tax return. It's important to keep accurate records and fulfill your tax obligations, including remitting any applicable sales taxes (e.g., Harmonized Sales Tax, Goods and Services Tax).
Benefits:
1. Simplicity and Control: Operating as a sole proprietorship is relatively simple and allows you to have full control over decision-making and business operations. You don't have to deal with complex corporate formalities or involve other shareholders or directors.
2. Flexibility: Sole proprietorships offer flexibility in terms of business operations and decision-making. You can adapt quickly to changing market conditions and make decisions based on your own judgment and preferences.
3. Cost-Effectiveness: Compared to other business structures, such as corporations, sole proprietorships have fewer regulatory requirements and lower startup and ongoing costs. You don't need to pay registration fees or maintain formal corporate records.
4. Direct Profits: As the sole owner, you are entitled to all the profits generated by the business. You have the freedom to reinvest the earnings or allocate them according to your financial needs and goals.
5. Privacy: Sole proprietorships offer a level of privacy as there is no public disclosure of financial information or ownership details beyond what you choose to share.
It's important to note that while a sole proprietorship provides simplicity and flexibility, it also exposes the owner to unlimited personal liability. This means that your personal assets are at risk if the business encounters financial difficulties or legal issues.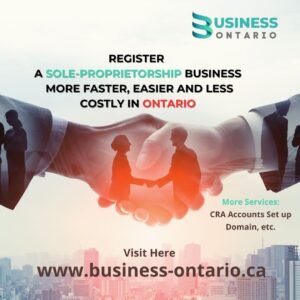 We provide comprehensive support for customers looking to register a sole proprietorship. Our services include:
1. Business Name Registration: We assist in registering a business name for the sole proprietorship, ensuring compliance with the applicable regulations and providing guidance on choosing a unique and suitable name.
2. Permits and Licenses: Depending on the nature of the business, we help identify the necessary permits and licenses required to operate legally. We guide customers through the application process and provide assistance in fulfilling the requirements.
3. Business Number Registration: We assist in obtaining a Business Number (BN) from the relevant government authority, which is essential for tax purposes and other business transactions.
4. Tax Registration: We guide customers through the process of registering for relevant taxes, such as the Goods and Services Tax (GST) or Harmonized Sales Tax (HST), and provide information on tax obligations and reporting.
5. Regulatory Compliance: We ensure that customers are aware of their legal obligations and assist in understanding and meeting regulatory requirements, including any industry-specific regulations that may apply.
6. Record-Keeping and Reporting: We provide guidance on maintaining proper records and assist in setting up efficient record-keeping systems. We also offer support in preparing and filing necessary reports, such as income tax returns or sales tax filings.
Our goal is to simplify the process of registering a sole proprietorship and provide customers with the necessary tools and information to start their business successfully. With our support, customers can confidently establish their sole proprietorship and focus on their entrepreneurial endeavors.