Registering your reselling business on Amazon is a strategic move. It establishes credibility, fosters trust, and protects your personal assets. In Canada, opting for a corporation is often the best choice. It offers limited liability, shielding your personal finances. Plus, it enhances your business reputation, making it easier to secure partnerships and investments. Choose security and credibility—register your Amazon reselling business as a corporation in Canada today.
Your ultimate destination for all things Amazon reselling, e-shop selling, and drop shipping! We are your go-to platform for all your online business needs.
We understand the dynamic nature of the e-commerce industry. That's why we have curated a diverse range of services to cater to every niche and market demand. Whether you're a seasoned reseller or just starting your entrepreneurial journey, our extensive catalogue is sure to have something that suits your taste and target audience.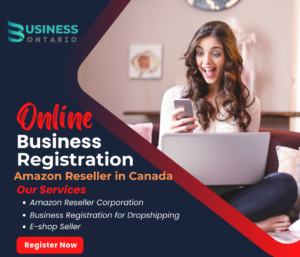 As an Amazon reseller, you can leverage our platform to expand your business and boost your sales.
We provide a user-friendly interface that simplifies the registration process, making it easier than ever for millions of potential customers.
If you prefer the convenience of e-shop selling, Federal Corporation has got you covered! Our platform empowers you to create your own online store effortlessly. Customize your storefront, add your branding elements, and start selling your products in no time.
Advantages:
Name Protected: Federal Name is protected throughout Canada. Once you get registered, no one can take your business name in other provinces
Limited Liability: Shareholders' personal assets are protected from business debts and liabilities, offering a significant level of protection.
Tax Flexibility: Corporations have various options for tax planning, which can result in potential tax savings.
Credibility: Having a corporation can enhance the business's credibility, making it easier to establish partnerships and secure financing.
Disadvantages:
Complexity: Corporations involve more paperwork and formalities, and there are associated costs with setup and maintenance.
Taxation: Corporations are subject to corporate tax rates, which might be higher than personal tax rates for small businesses.